About Cong. Beth Shalom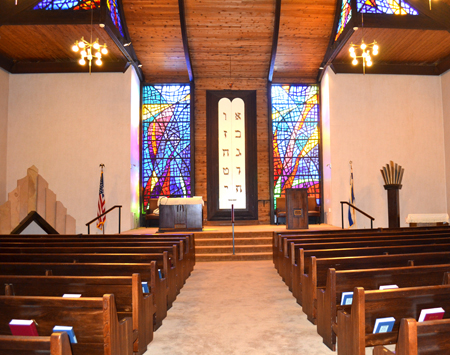 Our History
Founded in 1935 as the Jewish Center of Pompton Lakes by a small group of Jewish residents from Pompton Lakes, Wayne, and Butler, Congregation Beth Shalom is the oldest congregation in the area. The congregation was conceived by a small group who gathered together in the back of a tailor shop on Wanaque Avenue to celebrate the marriage of Isadore and Rose Weinstein.
Our founders were motivated to serve the cultural and religious needs of the Jewish community as a regional synagogue. They met regularly in a rented space above the stores in the Risden Building, on Wanaque Ave., which was destroyed by a fire in 1985. Mr. Dave Goldberg served as the synagogue's acting rabbi and Hebrew School Teacher. Visiting Rabbis who were hired for the High Holidays, who often came with their families and were housed in individual members' homes. The congregation's founding president was Mr. Harry Corn.
In 1945 the congregation outgrew the space in the Risden Building and arrangements were made to purchase the former home of State Senator and Pompton's first Jewish Mayor, Henry Grah Hershfield, at 525 Wanaque Avenue in Pompton Lakes. The building was renovated and expanded to accommodate a sanctuary, classrooms (both upstairs and downstairs) and meeting areas. A vibrant Woman's Auxiliary (Sisterhood), Men's Club and USY had become major components of synagogue life. Synagogue productions with talented members were always eagerly awaited. Pompton Lakes was the site of several USY weekend regional retreats.
The current building on Passaic Avenue was built in 1968 to accommodate a congregation that had grown to exceed the Wanaque Avenue location. The building campaign was spearheaded by then synagogue president Harry Robbins together with Robert Freifeld, Isaac Weiner, Irving Pilcer, Sylvia Margolis, Bernard Corn, Gerson Isenberg, Evelyn Weiner, Paul Weiner, Daniel Freifeld, Edward Reiss, Maxwell Steiner, Pearl Feldman, Shirley Levine, Leonard Newman, Irving Nurik, Benjamin Donow, Seymour Richmond and Dr. Harvey Cohen.
Our first Rabbi, Rabbi Hertzel Fishman, was appointed to the pulpit in 1946. Rabbi Fishman was succeeded by Rabbi Abraham Schoen who was appointed in 1949. Rabbi Schoen was then succeeded by Rabbi Joseph Herman in 1954. Our Rabbi Emeritus Rabbi Bernard Schecter came to Congregation Beth Shalom in 1964 and served the congregation for 35 years. During Rabbi Schecter's tenure the current facility was conceived and constructed. The congregation grew and peaked at 250 families. Rabbi Schecter's wife Rina taught our Hebrew School and was active in the synagogue sisterhood.
Rabbi Stephen Listfield succeeded Rabbi Schecter in 1996. Under Rabbi Listfield's tenure Congregation Beth Shalom fully incorporated women in ritual and became an egalitarian synagogue. Rabbi Ted Lichtenfield assumed the Congregation Beth Shalom pulpit in 2002 and served the congregation for three years.
Rabbi David Senter assumed the pulpit in 2005 until 2010. Under his leadership Congregation Beth Shalom has been recognized by United Synagogue with four Synagogue Excellence Awards. His wife, Elissa, took an active role in Congregation Beth Shalom, our sisterhood and directed our choir.
In 2010, CBS welcomed Rabbi David Bockman, his wife Vicki, and their son Theo, who fill our sanctuary with great vitality and warmth.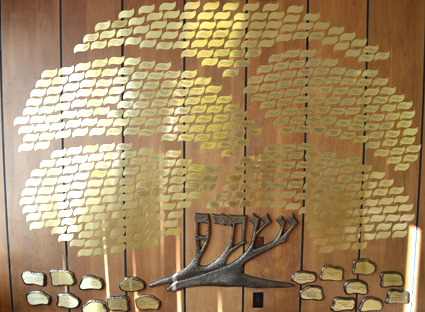 Tree of Life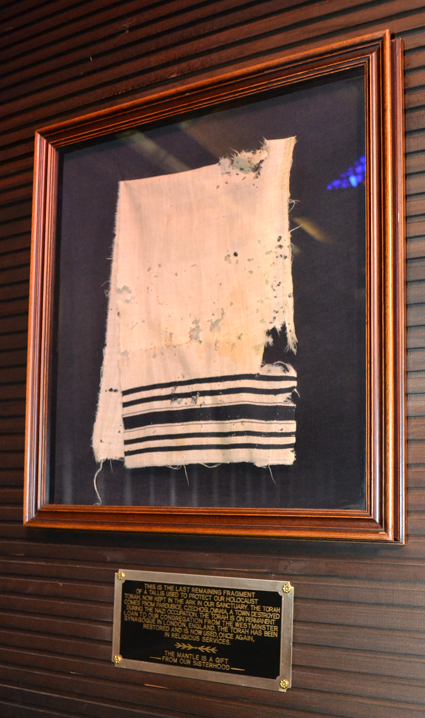 Holocaust Torah Tallit